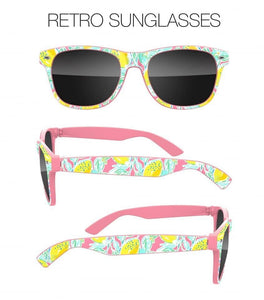 🍋Lemons custom printed sunglasses🍋 The perfect addition to Love and Grow Lemons lounge and swim, and for sister, brother, dad and mom matches! Something for the entire family!
Sunglasses will be available in two sizes and come with UV400 dark lenses.
ADULT: 5-3/4"w x 1-7/8"h x 6"d
YOUTH: 4-7/8"w x 1-5/8"h x 5-1/8"d
*youth size are made to fit children 2-9 years, for older children and adolescents order the adult size and they can grow into them!
Sunglasses are specially ordered and customized for us!